Back on the Richter Scale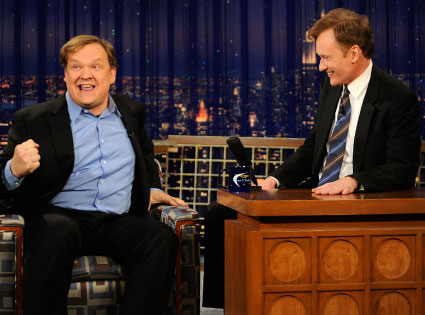 Dana Edelson/NBC

From E online - today 2-25-09

The prodigal sidekick has returned.
Andy Richter will be playing McMahon to Conan O'Brien's Carson, as the former Late Night cohorts reteam when O'Brien takes the Tonight Show reins from Jay Leno this summer.
This time around, however, instead of serving as O'Brien's on-air wingman, Richter will take the role of full-service announcer. In addition to serving as Tonight's official voice, he will also regularly appear in comedy bits.
"Andy is one of the funniest people I know, and we've maintained a close friendship since he left Late Night," O'Brien said. "We have a proven chemistry that will be an incredible asset to The Tonight Show."
And one more thing...
"I'm looking forward to working with Andy on a daily basis again, particularly since he owes me $300," O'Brien added.
Richter served as the final nonmusical guest on Late Night With Conan O'Brien when it signed off last Friday. No word was made at the time that he would be part of the Tonight Show's regime change.
The duo first teamed up back in 1993, when an untested—and, at least by the network, untrusted—O'Brien took over David Letterman's late-night show. Richter left in 2000 to pursue an acting career, more often than not backed by O'Brien. (The host produced Richter's most high-profile, ill-fated TV outings: 2007's Andy Barker, P.I. and 2002's Andy Richter Controls the Universe.)
While the Tonight Show gig is good news for Richter fans, it's bad news for Joel Goddard die-hards.
Though O'Brien paid tribute to the Late Night announcer on his final episode, singling him out for his contributions over the show's 16-year run, the Asian boy-toy-lover will apparently not be making the trip to Los Angeles.
Richter's confirmation sets into place the final rundown of on-air talent for the O'Brien-manned Tonight Show. O'Brien announced earlier this month that Max Weinberg and the Max Weinberg 7 will transfer over to become the Tonight Show house band.
O'Brien, Richter & Co. will make their Tonight Show debut on June 1.
Btw - It's amazing to me to find out that Andy's been gone from the show longer at this point than he was part of it the first time around. Hopefully this time he'll have the good sense to stay put.